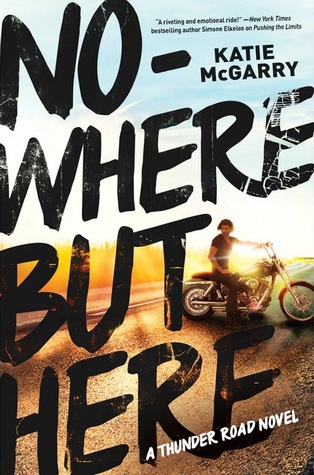 Nowhere But Here (Thunder Road #1) by Katie McGarry
Publisher:
Harlequin Teen
Publication date:
May 26th 2015
My rating:
3 stars
Amazon | Barnes & Noble | The Book Depository
An unforgettable new series from acclaimed author Katie McGarry about taking risks, opening your heart and ending up in a place you never imagined possible.

Seventeen-year-old Emily likes her life the way it is: doting parents, good friends, good school in a safe neighborhood. Sure, she's curious about her biological father—the one who chose life in a motorcycle club, the Reign of Terror, over being a parent—but that doesn't mean she wants to be a part of his world. But when a reluctant visit turns to an extended summer vacation among relatives she never knew she had, one thing becomes clear: nothing is what it seems. Not the club, not her secret-keeping father and not Oz, a guy with suck-me-in blue eyes who can help her understand them both.

Oz wants one thing: to join the Reign of Terror. They're the good guys. They protect people. They're…family. And while Emily—the gorgeous and sheltered daughter of the club's most respected member—is in town, he's gonna prove it to her. So when her father asks him to keep her safe from a rival club with a score to settle, Oz knows it's his shot at his dream. What he doesn't count on is that Emily just might turn that dream upside down.

No one wants them to be together. But sometimes the right person is the one you least expect, and the road you fear the most is the one that leads you home.
I've really enjoyed Katie McGarry's writing in the past, and the prospect of reading a young adult romance set within a Motorcycle Club had me really excited. While I did enjoy parts of Nowhere But Here there were a few complaints that kept it from being a knockout read for me.
Emily's plans for the summer change when a member of her biological father, Eli's, family gets sick.
Eli is part of a Motorcycle Club, Reign of Terror, a legit club who obey the law of the land, but that doesn't mean their lifestyle is anything normal to Emily.
She's been raised to think (by her mother) they are a dangerous and rowdy bunch, and Emily is not really an open minded girl when her visit begins.
Oz has been raised around the Reign of Terror and it's his dream to finally get his patch and join the family security business. His plans are put on hold when he's assigned to keep guard over Emily when her life is put in danger by a rival club.
I think my main issue with this story was the continual lies. Emily's mother, adoptive father, biological father, and basically everyone else do nothing but lie to her, and as the reader I was in the dark, as well, on almost everything until about the 80-85% of the book. Being that this is a long book, 496 pages, that's a substantial amount of pages! I think this story would've greatly benefited from some editing down.
I wanted to know what happened!
I wanted Emily to know what happened so she would stop judging these people when it was pretty clear there was much more to her story than her father just abandoning her!
Had the book been shorter or maybe if I was distracted by some danger or action maybe I would've been less frustrated.
Or maybe if I could've felt the romance more wouldn't have minded. As it was, Emily and Oz are mostly at odds for the first 65% of the book, alternately lusting after each other and then judging each other. I really wasn't on board with them as a couple until the last 35% of the book.
Plus, I couldn't understand why Emily wasn't grilling these people to get to the bottom of things when she supposedly stayed to find out the truth about her family.
Once the romance kicked into gear, I really wanted things to work out for Emily and Oz.
I was happy with the choices Oz made when he stepped out of the Motorcycle Club mindset.
Yes, he still loved the MC and his extended family, but Oz was in it on his terms by the end.
I'm still a bit mixed over Emily. I wished she put more effort into trying (to get to know them, not be judgmental, get to the bottom of things!) with Eli's family.
I know it sounds like I didn't like this book at all, which is not the case. I was glued to the pages for the last 35% of the story.
I finally got the answers, action and romance I wanted through the whole book.
I did have some moments in the end there were I had to suspend my disbelief, although, that doesn't necessarily put me off a story. This is fiction after all. With all of this it's been really hard for me to come up with a rating.
I've been trying to decide anywhere between 2-3.5 stars.
In the end I think I'll settle on 3 stars.
I am excited for Razor's story next.