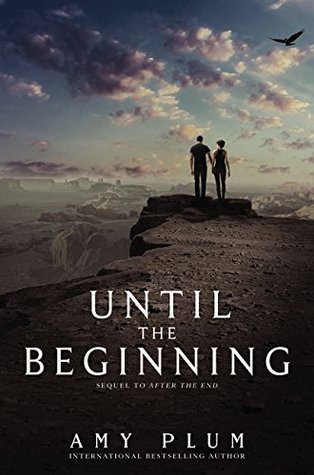 Until the Beginning (After the End #2) by Amy Plum
Publisher:
Harper
Audio
Publication date:
May 5th 2015
Length:

8 hrs and 30 min
Narrator:
Emily Rankin, Graham Hamilton
My rating:
4.5 stars
Amazon | B&N | TBD | Audible | GRs
Excellent conclusion to an exciting duology!
This is YA at its best! I definitely recommend the audio version.
Emily Rankin and Graham Hamilton's performance made the story come to life!
I was amazed with Juneau and Miles ability to strategize and use whatever they had available in pursuit of the ultimate goal of saving Juneau's clan.
Juneau had to sort through her beliefs to and find her own truths, but she didn't let the questions hold her or her powers back.
I have to say her father and clan trained Juneau well, in spite of the lies they told.
I loved the positive character growth Miles had through this journey, and I was pleased he caught on so quickly and became a real asset. The romance was lovely. Not so much that it took over the plot, but enough swoony moments to satisfy this romance junky.
Third Grave Dead Ahead (Charley Davidson #3) by Darynda Jones
Publisher:
Macmillan
Audio
Publication date:
January 31st 2012
Length:

9 hrs and 51 min
Narrator:
Lorelei King
My rating:
3.5 stars
Amazon | B&N | TBD | Audible | GRs
As usual I laughed my ass off (got weird looks from my hubby all the while, lol!) at Charley's antics.
The mystery was addictive, but I put a few things together way before Charley should have.
I was surprised by at how things got serious real quick and there were grisly parts that creeped me out and wrenched my heart!
Darynda really put Charley through the ringer in this installment! Betrayals from loved ones and something sad at the end made me feel terrible for Charley!
I wished we got more meaningful interactions between Charley and Reyes, and that we got more information on him.
I've already started the next book, and I'm happy to report we are finally getting somewhere on that front!