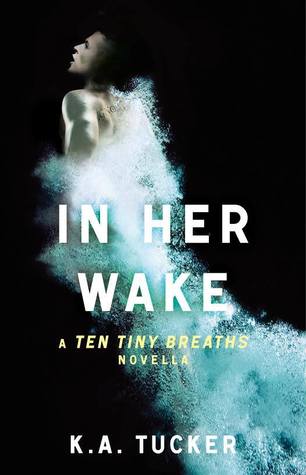 In Her Wake (Ten Tiny Breathes #0.5) by K.A. Tucker
Publisher:
Atria Books
Publication date:
September 1st 2014
My rating:
4 stars

Before you knew him as Trent in Ten Tiny Breaths, he was Cole Reynolds—and he had it all. Until one night when he makes a fatal, wrong decision…and loses everything.

When a drunken night out at a Michigan State college party results in the death of six people, Cole must come to terms with his part in the tragedy. Normally, he'd be able to lean on his best friends—the ones who have been in his life since he could barely walk. Only, they're gone. Worse, there's the shattered body of a sixteen-year-old girl lying somewhere in a hospital bed, her entire life ripped from her because of a case of beer and a set of keys.

Everyone assures him that they know it wasn't intentional, and yet he can't ignore the weight of their gazes, the whispers behind his back. Nor can he shake the all-consuming guilt he feels every time he thinks of that girl who won't so much as allow him near her hospital room to apologize. As the months go by and the shame and loneliness festers, Cole begins to lose his grip on what once was important—college, his girlfriend, his future. His life. It's not until Cole hits rock-bottom that he can begin to see another way out of his personal hell: forgiveness.

And there's only one person who can give that to him…
******Major spoilers if you have read Ten Tiny Breathes******
In Her Wake
is Trent/Cole's story before he meets up with Kacey in Miami, and it's a sad one.
My heart definitely went out to Trent and you really don't realize how much he suffered until reading this novella. His story underscored what I felt in Ten Tiny Breathes, Trent and Kacey were meant to be. The accident marks a definite before and after for both Kacey and Trent.
Life was so utterly changed after the accident and I doubt anyone could relate to just how tragic and profound those changes were except for Trent and Kacey.
Trent suffers from major survivor's guilt, because even though he wasn't the driver of the vehicle that killed everyone, he was supposed to be the designated driver of the night and then was unable to fulfill his duties after drinking anyhow.
Instead of calling a cab or waiting it out the house they're at, his best friend, Sasha, says he's fine to drive when in fact he's drunker than Trent.
I completely sympathize with his mistake because I probably would've trusted my friend's word, too.
If he said he was okay to drive I would've assumed that he wasn't drinking and got in the car to drive home.
Trent wakes up in the hospital and finds out the extent his error cost everyone. He's lost his two best friends, four others are dead, and sixteen year-old Kacey is in the hospital suffering from major injuries. Trent struggles with resuming the life he had before the accident and instead basically checks out until he hits rock bottom landing him in the care of Dr. Stayner.
The unconventional doctor we've met from previous books aids him to see that in order to move on, Trent needs to figure out how to forgive himself for being human.
What amends will he have to make to do that?
Even before this counseling Trent was fixated on Kacey, checking on her to see if she's coping.
When she's clearly not dealing well, he makes it his mission to become a sort of guardian angel, looking out for Kacey's well-being.
Watching out for Kacey becomes more than just his way of making "amends", though.
He's fallen for her from afar.
I really had no idea the scope of Trent's involvement in Kacey's life in the years after the accident, and she had no idea of his presence at all. Lucky for her on a couple of occasions that he was looking out for her!
Trent's novella gives additional insight into
Ten Tiny Breathes
that I think fans will appreciate.
I went back and re-read portions of TTB while reading this novella to refresh my mind and then after finishing
In Her Wake
to remind me of their HEA.
K.A. Tucker added more depth and heart to an already beautiful story!
Ten Tiny Breathes Series:
Born in small-town Ontario, Kathleen published her first book at the age of six with the help of her elementary school librarian and a box of crayons. She is a voracious reader and the farthest thing from a genre-snob, loving everything from High Fantasy to Chick Lit. Kathleen currently resides in a quaint small town outside of Toronto with her husband, two beautiful girls, and an exhausting brood of four-legged creatures.
Connect with K.A. Tucker:
a Rafflecopter giveaway