On Thursday February 5th, 2015 I attended an Author Event at
Vroman's Bookstore
in Pasadena, California for
Gayle Forman
to mark the release of her newest book:
I Was Here
. I'll be giving away a signed Hardcover below so be sure to scroll down and enter the rafflecopter!
Gayle Forman
This was probably the most unusual author event I've been to, and I can't really say that Gayle's newest book, I Was Here, was discussed much. It was more of a girlfriend-gathering-free-for-all, as Gayle had her friends Deanna Kizis (screen & film writer) and Margaret Stohl (author of Beautiful Creatures & Icons) appear with her as guests up at the table.
Jorjeana Marie, Margaret Stohl, Gayle Forman & Deanna Kizis
Also in attendance was audio narrator for I Was Here:
Jorjeana Marie
who opened up the event with a scene read from the book. Her performance was amazing! I had to bite my lip so I wouldn't cry and my bookfriend and partner in crime, Arlene from
Winterhaven Books
almost cried too, which speaks to how intense and moving Ms. Marie's performance was, because Arlene NEVER cries!! :) I'm
definitely
listening to the audio version!
Audio book narrator Jorjeana Marie reading a scene from I Was Here
While there was mostly reminiscing about young friendship at this event, I did manage to find out a few little tidbits about Gayle's books:
Gayle's inspiration for Willem in Just One Day & Just One Year was a Dutch boy who broke her heart. Aww...
Just One Day/Just One Year might turn into one movie alternating back and forth between Willem and Allyson's POV.
Where She Went may not be made into a movie, dang it! I want Adam's story!
A Signed Hardcover Copy of I Was Here by Gayle Forman. Open to US Residents only. Simply fill out the rafflecopter below for a chance to win. Good luck!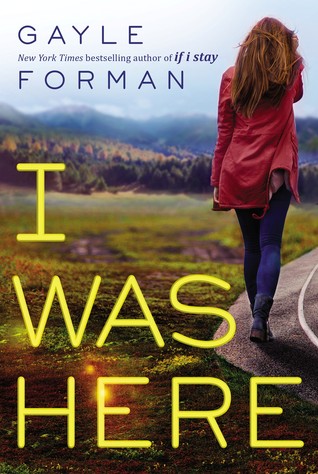 a Rafflecopter giveaway