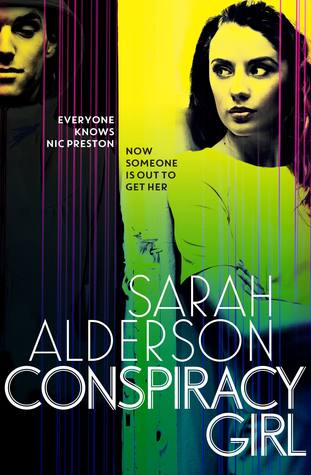 Conspiracy Girl by Sarah Alderson
Publisher:
Simon & Schuster UK
Publication Date:
February 12th 2015
My rating:
4 stars
Everybody knows about the Cooper Killings. There was only one survivor – fifteen year-old Nic Preston. Now eighteen, Nic is trying hard to rebuild her life. But then one night her high-security apartment is broken into. It seems the killers are back to finish the job. Finn Carter – hacker, rule breaker, player – is the last person Nic ever wants to see again. He's the reason her mother's murderers walked free. But as the people hunting her close in, Nic has to accept that her best chance of staying alive is by staying close to Finn. And the closer they get to the truth, and to each other, the greater the danger becomes.
Conspiracy Girl was once again a fast paced heart in your throat sort of read that I've come to expect from Sarah Alderson. Right from the beginning we're thrown into Nic's dangerous world, a girl who we find is living with the utmost security in her home surrounding her. Why would a girl of Nic's age need this much security? Who is she hiding from? Our fear for her is immediately kicked into overdrive when her house is broken into the first few pages, like I said she has the best surveillance installed, something only which a top hacker can get through and then her neighbour is shot and Nic is taken away to be kept safe, from whom we don't know, but the worst thing Nic is put under care of one of the last people she wants to be with, isn't she just better making it on her own? But who knows what dangerous people could turn out to be out there? Nic knew she had to place her trust with this guy for the foreseeable future; I was all for watching this bumpy ride out!
I'm a huge fan of antagonist relationships, relationships which start upon hate, but have the potential to become something more, but our two main characters are too blind to see or filled with rage to see what's standing in front of them. Nic had all the right reasons to dislike Finn, if I was in her shoes I would be fuelled by the same pent up rage to punch him in the face and then run away from him as fast as I could. But when you have nobody else to protect you and have some crazy killer or who knows what after her and the FBI has deemed that Finn's place and protection is the best place for you, you really have no choice. I loved watching the relationship unravel between Finn and Nic. There was a lot of early angry words thrown about and mistrust between them, but I adored how page by page, we were able to experience small cracks appear against the defences they had up especially ones put up by Nic. Of course it was hard not to fall for Finn, he was super intelligent, could crack any type of security, was willing to put his own safety on the line to protect Nic and did I mention hot? I loved some of the scenes Alderson decided to scatter amongst the tense scenes which took up most of the story, they were certainly great in bringing our hopes up that our characters would find a way to survive and an easy smile or (blush in my case) on many occasion. Also the dual pov contributed in a great way in getting a better understanding of Finn's character, we knew why Nic didn't trust him, but by being in his head we were able to get the fuller picture and also see a softer side to him than what Nic had originally painted of him.
There were many obstacles thrown against Nic and Finn, many which I was worried that they wouldn't find their way out. But I was grateful that Nic had been put in Finn's protection, as together they made a formidable team; there to calm each other down and always thinking one step ahead when they found themselves in tight situations. I feared the worst for Finn and Nic, but this was largely because we had no clue as to why anyone would be after Nic and why they were so adamant until much later on. The person who could have clued her in had legged it on the first chance, which made me slightly mad, if they really cared about Nic, wouldn't they have ensured that Nic was safe when things hit the fan? Wouldn't she be his number one priority and not himself? This characters decision aside, Conspiracy Girl was a fantastic read, Alderson had us guessing until the very last page about who could be behind it all, to say I was shocked was the biggest understatement of the year. Alderson once again has gone to show why she is one of my favourite authors with Conspiracy Girl; she's written a story with two kick ass characters that will have you rooting for them until the very last page!