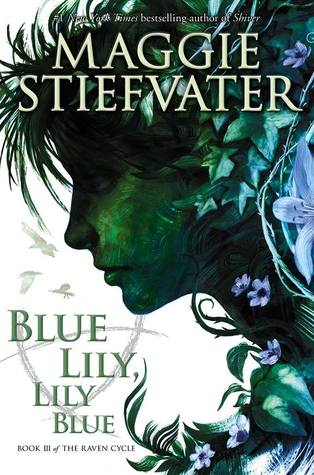 Blue Lily, Lily Blue (The Raven Cycle #3) by Maggie Stiefvater
Publisher:
Scholastic Press
Publication date:
October 21st 2014
My rating:
5 stars
Amazon | Barnes & Noble | The Book Depository
There is danger in dreaming. But there is even more danger in waking up.

Blue Sargent has found things. For the first time in her life, she has friends she can trust, a group to which she can belong. The Raven Boys have taken her in as one of their own. Their problems have become hers, and her problems have become theirs.

The trick with found things though, is how easily they can be lost.

Friends can betray.
Mothers can disappear.
Visions can mislead.
Certainties can unravel.
Spoilers ahead if you haven't read the rest of the series.
Blue Lily, Lily Blue
was my favorite installment to date of the Raven Cycle series. I think it's because I've settled in with these characters, got to know them, and speak their language now.
I love the relationships and interactions even more than any plot progression.
Clever humor, and quirky, flawed characters, make the dialogue
hilarious
, riveting, and meaningful.
The search is on for Maura who apparently went searching for Butternut, aka Blue's father, although, I'm not sure why. Blue is both scared and ticked at her mother for disappearing.
Blue, Calla, Persephone and Mr. Gray are not sure if Maura meant to be gone as long as she has or if Maura's in trouble. The appearance of a dangerous enemy of Mr. Gray, someone willing to hurt anyone he cares for, paints a target on everyone.
The search is still on for Glendower. Professor Malory, Gansey's old friend from England, has joined them in their search.
The romance, forbidden for a few reasons, is progressing whether Blue or Gansey try and resist it or not. I pick apart any scene where they're together and revel in any shared moment, glance, and touch. I'm crossing my fingers and toes that somehow things can work out! Please don't kill him off, Maggie!
There's another possible romance, maybe? Did I imagine it or was there something between
highlight for spoiler:
Ronan and Adam? I think there was definitely something there on Ronan's side but I'm not sure what Adam's feelings are.
I don't think he even knows.
The humor was sharp, clever, and silly in parts; I was laughing all the way through!
~The "Murder Squash song"!!:
Adam hadn't even realized the ancient tape deck worked, but after a hissing few seconds, a tape inside jangled a tune. Noah began to sing along at once.
"Squash one, squash two—"
Adam pawed for the radio at the same time as Blue. The tape ejected with enough force that Noah stretched a hand to catch it. "That song. What are you doing with that in your player?" demanded Blue. "Do you listen to that recreationally? How did that song escape from the Internet?"
For some reason Noah and Ronan were obsessed with this horrible, repetitive song and tried to sneak it in whenever they could.
Its appearance always made me laugh!
Other points of humor I loved:
~Multiple use rooms:
The Kitchen/Bathroom/Laundry room in Monmouth
"Blue was disturbed by the number of chip bags that were reachable from the toilet."
The Phone/Sewing/Cat Room at Fox Way
This is where Blue made her late night calls to a certain someone.
~Calla's irritability and ability to learn deadly fighting skills all the while sipping a Manhattan.
~The teas/beverages of Fox Way. Fruity or footy tea, anyone?
~Orla's definition of someone asking Blue out:
"Charity told me that T.J. asked you out today and you just stared at him."—
"At lunch, T.J. came over to my table and drew a penis on the unicorn on my binder. Is that the incident you're referring to?"
"Don't Richard Gansey the Third at me," Orla replied.
"Because if that's what she meant, then yes, I just stared at him. I didn't realize it was a conversation because penis."
I've had
Blue Lily, Lily Blue
for quite some time, but I'm glad I held off reading it because I don't have to wait too long for the last book now.
I'm worried about several things, but all will be resolved in September.
Also, I switched back and forth from reading and listening to the audio version, and I can't recommend the audio enough! Will Patton's performance is superb and I really felt like each character was a separate, distinct person even though he performed all parts. His portrayal of Gwenllian made her sound nuttier that a fruitcake, which she totally is!
It's impossible for me to express how much I adore the amazing writing in this series!
Maggie Stiefvater flexes her amazing writing prowess by making you
feel
and relate to each and every character!