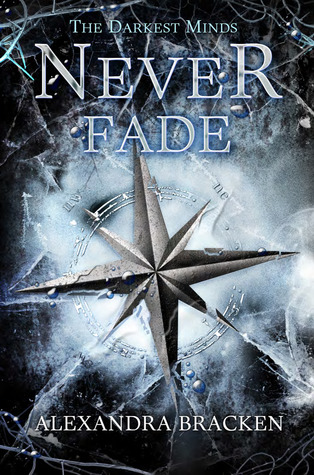 Never Fade (The Darkest Minds #2) by Alexandra Bracken
Publisher:
Disney-Hyperion
Publication Date:
October 15th 2013
My rating:
5 stars
Ruby never asked for the abilities that almost cost her her life. Now she must call upon them on a daily basis, leading dangerous missions to bring down a corrupt government and breaking into the minds of her enemies. Other kids in the Children's League call Ruby "Leader", but she knows what she really is: a monster. When Ruby is entrusted with an explosive secret, she must embark on her most dangerous mission yet: leaving the Children's League behind. Crucial information about the disease that killed most of America's children—and turned Ruby and the others who lived into feared and hated outcasts—has survived every attempt to destroy it. But the truth is only saved in one place: a flashdrive in the hands of Liam Stewart, the boy Ruby once believed was her future—and who now wouldn't recognize her. As Ruby sets out across a desperate, lawless country to find Liam—and answers about the catastrophe that has ripped both her life and America apart—she is torn between old friends and the promise she made to serve the League. Ruby will do anything to protect the people she loves. But what if winning the war means losing herself?

The kiss was over before it ever really started. A bruising, single touch filled with enough urgency, enough frustration and wanting to send my blood rushing. I was still trying to catch my breath when he pulled back, his hands on my face, his lips close enough to mine for me to feel him pant too.
Then he was stepping back, away, letting distance flood in between us again. His voice was low, rough, "Give 'em hell, darlin'."

Never Fade brought out all my reading habits that I hadn't done in ages; staying up reading late even though I knew I had to get up extra early the next day, not being able to read on my current page properly, I always find myself skimming slightly ahead and just so that I could ease some of the tension away and of course being the most unsocial person ever in the days it took me to read this book. Never Fade was constantly on my mind, you know when you're younger and you're promised a treat if you get all your chores done, I was like that, eager to get everything done, so that it would be nothing else but me and my beautiful book.
The Darkest Minds was a book which broke my heart, I read it so many months ago, but I still remember the achy beautiful passages that I had to push myself through. This time in Never Fade it's the same but so much worse, with the way things ended in The Darkest Minds, I was eager for the things to get back on track, the way they used to be. But once again Bracken through up unexpected road blocks after road block that had me gasping in rage. I knew things could be bad, but some people in Never Fade were just the worst! In particular those characters who wouldn't back down and would just pop up when you least expected them (highlight to view spoiler)
I'm talking about you Clancy and Rob
. Things could really be violent and gruesome at times that I'm glad that Ruby had learnt to become a stronger person, some would say she wasn't in the best place, but as you begin to progress through the book, you become to realise that all the horrible training she went through at the League actually helped her deal with deadly situations that she found herself in.
In Darkest Minds I loved travelling with Ruby, Liam, Chubs and Zu, they were characters which left huge impressions on me, so I was sort of wary when I was introduced to new characters in Jude and Vida, could Ruby really trust these kids? Especially Vida? By the end of the book, my feelings about these two changed so much, I found myself being all protective around them. I don't want to say too much, but definitely keep your heart open when it comes to these two characters. Bracken excelled when it came to changing my feelings about a lot of characters, someone I despised in The Darkest Minds because I didn't really understand their true agenda, but they ended up surprising me in this latest instalment, I was still constantly wary about them, but was grateful that they had stuck around. I also enjoyed the introduction of another new character, although he wasn't as around as much, I adored their sense of humour and how they were in the right place during one particular tense situation. I'm hoping to get to know this character a whole lot more in the final book in the series. There were many fantastic characters in this story, whereas Liam and Ruby had been my favourite in The Darkest Minds, there were so many here that found a special way to my heart.
Never Fade was one of the best middle book series that I have read in a long time, for me it was actually a story I ended up loving the most. I loved the unpredictable scenes that Bracken was able to weave in to this story, how despite so much chaos being thrown against our characters, I still carried a little bit of hope that things would be okay. Never Fade is littered with fast paced breath taking scenes, but also many heart breaking ones. I was completely destroyed in places, so shall pre-warn you to keep your tissues at the ready. Never Fade was my first read of 2015 and it ended up being a five star read for me, I'm kind of having mixed feelings over picking up In the Afterlight, I want to know how things will end, but at the same time, I don't want to say goodbye to these characters just yet.