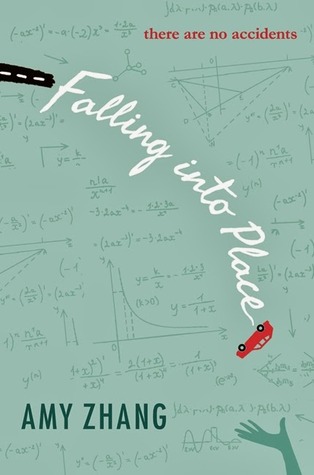 Falling into Place by Amy Zhang
Publisher:
Greenwillow Books
Publication Date:
September 9th 2014
My rating:
3 stars
On the day Liz Emerson tries to die, they had reviewed Newton's laws of motion in physics class. Then, after school, she put them into practice by running her Mercedes off the road. Why? Why did Liz Emerson decide that the world would be better off without her? Why did she give up? Vividly told by an unexpected and surprising narrator, this heartbreaking and nonlinear novel pieces together the short and devastating life of Meridian High's most popular junior girl. Mass, acceleration, momentum, force—Liz didn't understand it in physics, and even as her Mercedes hurtles toward the tree, she doesn't understand it now. How do we impact one another? How do our actions reverberate? What does it mean to be a friend? To love someone? To be a daughter? Or a mother? Is life truly more than cause and effect?
Falling into Place really was a beautifully written debut from Zhang; she was able to weave a story of loss, hope and friendship exquisitely. To be honest I didn't really like our MC Liz, yes I appreciated getting to know her character better with the flashbacks that we were given over time, but they didn't really make me like her anymore. But at the same time I did really feel sorry for her, she had nobody her mum was constantly working away, one of her best friends had turned to drugs and the other one was going through her own problems. I could see how the silence at home could be unbearable, but the only way Liz could deal with it was by getting totally wasted and forgetting everything. Also I knew the flashbacks were there to give us a better understanding of Liz's character, but some of the things she did, she could be so hateful at times, totally ruining people's lives and when you thought that Liz would take that step to make things better again, she just wouldn't. Another thing despite the horrid things she did you still had people sweet like Liam hanging on to Liz, I just couldn't get why.
My feelings about Liz aside, I did like how Zhang gave us this story, we were able to learn about our characters through many different perspectives. It was horrible seeing them go through so much heartache, but in the end one thing still brought them together and that was Liz. Liz wasn't the most caring character, but she was the rock that kept everything stuck together, no one really realised just how much dependent they had become on Liz until there was the chance that she wouldn't be around anymore.
From the beginning I had all but given up hope on Liz surviving, she had planned everything in such an articulate way and had given up on everything. The way that Zhang had told the story it did seem that Liz wouldn't make it, but as the story progressed and more characters started coming through and sharing their stories of Liz, the more I didn't want Liz to die, I wanted her to keep on fighting because life has so much to offer.
I wasn't able to form the best connection with Liz's character; I just kept alternating between feelings of disappointment and annoyance. But characters such as Julia and Liam definitely made up for this lack of connection, seeing Liz's character and life through their and many other characters eyes did at times make me see things differently. And for that I'm grateful for. Falling into Place was a story I had been expecting to be an emotional wreck over, but surprisingly I wasn't, but nevertheless it was a beautifully written debut.