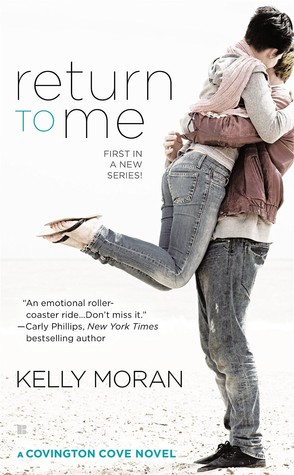 Return to Me (Covington Cove #1) by Kelly Moran
Publisher:
Berkley
Publication date:
March 3rd 2015
My rating:
4 stars
Amazon | Barnes & Noble | The Book Depository
With every beat of the heart comes a memory of what could have been…

Ten years ago, Cole Covington was just another rich kid who got everything he wanted—including young and trusting Mia Galdon. Then one night everything changed, and two hearts were shattered. Cole buried his guilt in the military, where love was just part of the past. Now Cole has come back home, emotionally damaged, guarded, and unprepared for what's waiting for him…

At the urging of Cole's sister, Mia has returned to the Covington family's coastal home in Wilmington as a private nurse to help Cole recover. With her uncertain personal life at a crossroad, Mia doesn't have the luxury of saying no to the job. And she soon finds out that the attraction is still alive. So are memories of betrayal. But Mia will discover more than the power of resilience. She'll discover a secret Cole has held for years, one that will force them to confront the past and give new meaning to letting go, forgiveness, and a future worth fighting for.
Cole and Mia met at Cole's family summer house as teenagers and fell deeply and irrevocably in love. Mia was the daughter of the help, and Cole was the son of the very rich and powerful Covingtons. They were from two very different worlds, and unfortunately their love ended with both their hearts shredded.
Both Cole and Mia have been unable to move on from their first love, but ten years later they're about to be thrown together again.
Cole is back home from the army after an enemy attack left two of his squad mates dead, and Cole severely injured. Cole is depressed and uninterested in getting better, turning away any who come to visit, and firing any nurses his sister, Lacey, hires to care for him.
In desperation, Lacey goes to the only person she thinks can bring Cole back from despair, Mia.
Mia doesn't want to return to Covington Cove, but her finances make the decision for her. The night Cole and Mia parted still brings up anger and hurt, but she's the sole provider for her disabled sister so she must put her feelings aside and take the job.
Cole blames himself for how things ended with Mia, and doesn't feel worthy to have a second chance with her. That doesn't stop the same burning attraction and deep connection they shared so many years ago from emerging again when she comes back to care for him.
Mia doesn't want to allow Cole in again after he shattered her heart. She tries to keep their relationship professional, but seeing Cole in his broken and vulnerable state makes it impossible to shut him out completely.
The story flashes back and forth from past to present so that the reader gets a glimpse of Cole and Mia first meeting, forming a bond and then falling hopelessly in love. I appreciated experiencing that because it made me understand their profound connection.
I longed for Cole and Mia to work things out and finally have the future together they both deserved.
Second chance romances are a favorite of mine, because it makes me so sad when two people who should be together part ways, and never forget the love they once had.
I want a happy ending for them! Cole and Mia's romance was a beautiful, emotional example of that, one I thoroughly enjoyed.
Connect with Kelly Moran: