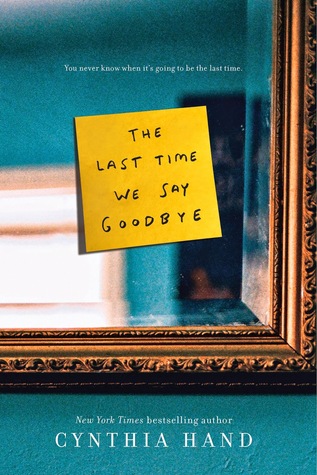 The Last Time we Say Goodbye by Cynthia Hand
Publisher:
Harper Teen
Publication Date:
February 10th 2015
My rating:
4 stars
There's death all around us. We just don't pay attention. Until we do. The last time Lex was happy, it was before. When she had a family that was whole. A boyfriend she loved. Friends who didn't look at her like she might break down at any moment. Now she's just the girl whose brother killed himself. And it feels like that's all she'll ever be. As Lex starts to put her life back together, she tries to block out what happened the night Tyler died. But there's a secret she hasn't told anyone-a text Tyler sent, that could have changed everything. Lex's brother is gone. But Lex is about to discover that a ghost doesn't have to be real to keep you from moving on.
Hand's Unearthly series was one of my all time favourite paranormal series; it was a series which made me want to look at paranormal reads in a whole another light, instead of despair all the time. So when I heard of Hand dipping into contemporary genre I was over the moon, I'm typically a contemporary girl at heart, so was excited about her first foray into this genre. As expected Hand didn't disappoint; she wrote such a poignant novel in The Last Time We Say Goodbye and explored a girl dealing with the loss of her brother eloquently.
The Last Time We Say Goodbye was a different sort of book which dealt with the loss of a loved one, with so many books already out there dealing with this tough subject, Hand approached this story with it not only being about Ty, getting to know his character and why he may have taken his life, but from the perspective of his family and how by coming to terms with his loss they could finally come to terms with closure, but it was also a sort of journey for Ty's family to sort of come to terms with and forgive one another.
To be honest The Last Time We Say Goodbye did take me a while to get into, I didn't have a hard time with connecting with the characters at all, but I think it may be because I'd been on a fantasy kick and so coming back to a contemporary read dealing with a really serious issue took some time adjusting to. But I liked the way Hand explored the different venues in Lexie's life, it wasn't a straight forward path in which Lexie was able to deal with the loss of her brother Ty, but over the course of her grief, a new door would open which would shine light into something she didn't know about or bring in a person into her life that was unexpected but sort of necessary for her to move forward with her life. Every one deals with grief in a different way and although Lexie's way was to keep going, but drop everyone around her, her friends and boyfriend, I sort of wanted to know why she did, was it her only coping mechanism? Or was it something they did? We were given insights into these characters, but a full explanation doesn't really come until the end and honestly it really took me by surprise, but I'm glad Hand left it to the end, because it did give me a better understanding of Lexie's characters, but also the chance to appreciate her character more.
Overall The Last Time We Say Goodbye to me was a successful transition for Hand into the contemporary genre; really I didn't expect any less of this super talented author. I fully appreciated this beautiful, but at times difficult journey that we were able to experience with Lexie.