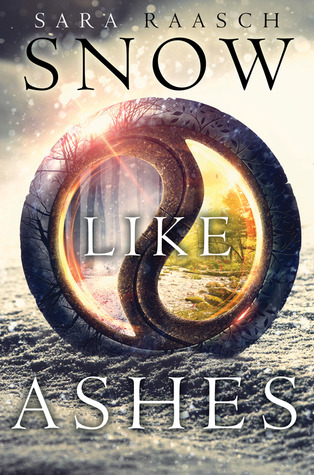 Snow Like Ashes by Sara Raasch
Publisher:
Balzer + Bray
Publication Date:
October 14th 2014
My rating:
4 stars
A heartbroken girl. A fierce warrior. A hero in the making. Sixteen years ago the Kingdom of Winter was conquered and its citizens enslaved, leaving them without magic or a monarch. Now, the Winterians' only hope for freedom is the eight survivors who managed to escape, and who have been waiting for the opportunity to steal back Winter's magic and rebuild the kingdom ever since. Orphaned as an infant during Winter's defeat, Meira has lived her whole life as a refugee, raised by the Winterians' general, Sir. Training to be a warrior—and desperately in love with her best friend, and future king, Mather — she would do anything to help her kingdom rise to power again. So when scouts discover the location of the ancient locket that can restore Winter's magic, Meira decides to go after it herself. Finally, she's scaling towers, fighting enemy soldiers, and serving her kingdom just as she's always dreamed she would. But the mission doesn't go as planned, and Meira soon finds herself thrust into a world of evil magic and dangerous politics – and ultimately comes to realize that her destiny is not, never has been, her own.
Snow like Ashes was recommended to me as fantasy at its best, and I can say that it really was a superb read. The world that Raasch created was exquisite, having four seasons out to try and decimate one another poor Winter was really done for, but the last few inhabitants had hope that they could bring back Winter to what it used to be.
Raasch did a great job at completely throwing us into the story, a few members of Winter had gone off to find the missing conduit, it was a dangerous mission as they had located it in the Spring (a place which wasn't too willing to help Winter). The returned but had been unsuccessful, Mather the future king was selected to go back, but Meira who was raised by Winterians puts herself forward, poor girl was never allowed to do anything, so I was rooting for her to go. Meira was a fantastic character, as an orphan she was bought up by Sir; a great general of Winter, she trained her utmost hardest, but was always left behind when it came to doing things for Winter. I did have my suspicions about why this could be, but never would have guessed the real reason. But also it was an awful thing to experience too, she was always having these constant doubts that she wasn't good enough for Winter, furthermore when further events kicked off she felt like a used pawn, which she had every right to be. Decisions were made on her behalf by Sir and Mather without consulting her and she was forced into situations she didn't want to be in for the greater good of Winter. If I were in Meira's situation I would have been fuming too, but after a little struggle Meira tried to be as obedient as she could, however I'm glad that she didn't completely disregard her suspicions that she had.
The plot and world building like I said earlier were fantastic, there was constantly always something happening and with Winter with its back against the wall, you wanted them to come out strong anyway possible. I also loved the fantastic set of characters that Raasch created; with fierce Meira and Mather and Sir. My only issue I had was with the love triangle which sort of developed. I honestly wanted Meira to end up with the guy we were introduced to in the beginning, but he sort of took a step back early on, which frustrated me to no end, I know he probably thought he was doing it for the greater good, But I genuinely believe that something could develop between these two, I could see that spark there. And then when there was the introduction of this other character, I had my suspicions, was he really that nice and did he really have feelings for Meira? As the book progressed you do get to know these characters that bit more and find out what they're really like, but (highlight to view spoiler)
I hated that the love triangle was left unresolved at the end of this book.
And the last thing was that something major goes down in this book, I was so upset about it, but after reading on thought it was the right thing to happen,
(highlight to view spoiler)
but when this character is brought back to life, I was happy about it, but felt it had a bigger compact on the story, when Sir had been killed off.
These minor problems aside, Snow like Ashes was a genuinely excellent read. I enjoyed the ride that Raasch took us on with this wonderful story. Although I did assume that this was going to be a standalone read, I am looking forward to continuing this journey with this great set of characters.