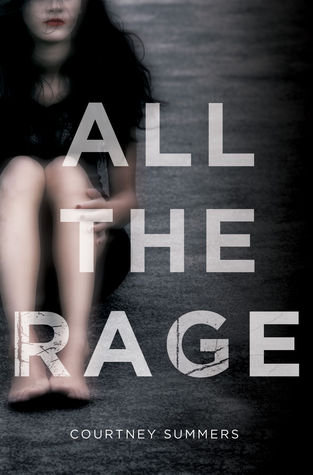 All the Rage by Courtney Summers
Publisher:
St. Martin's Griffin
Publication Date:
April 14th 2015
My rating:
3 stars
The sheriff's son, Kellan Turner, is not the golden boy everyone thinks he is, and Romy Grey knows that for a fact. Because no one wants to believe a girl from the wrong side of town, the truth about him has cost her everything—friends, family, and her community. Branded a liar and bullied relentlessly by a group of kids she used to hang out with, Romy's only refuge is the diner where she works outside of town. No one knows her name or her past there; she can finally be anonymous. But when a girl with ties to both Romy and Kellan goes missing after a party, and news of him assaulting another girl in a town close by gets out, Romy must decide whether she wants to fight or carry the burden of knowing more girls could get hurt if she doesn't speak up. Nobody believed her the first time—and they certainly won't now — but the cost of her silence might be more than she can bear.  With a shocking conclusion and writing that will absolutely knock you out, All the Rage examines the shame and silence inflicted upon young women after an act of sexual violence, forcing us to ask ourselves: In a culture that refuses to protect its young girls, how can they survive?
Summers has always had the knack of writing hard hitting stories. All the Rage tackles the issue of rape, an issue which a lot of people don't want to discuss, but Summers really dealt well with this issue; just how hard it can be for the person going through it when no one wants to believe the supposed accusations you're throwing about. When everyone including your best friend drops you because of the accusations you make against the popular guy, because of course the sheriff's son would never have done that. All the Rage did really make me want to rage in places, the so called bullies who thought it was okay to step all over you and treat you like crap. But I think I was madder with the sheriff, just because he was the sheriff he was quick to make judgements and assume he knew everything. I really can't stand people who disrespect their use of authority like that. Even in the end when people had come to him telling him things, he was still quick to doubt Romy. Like who does this?
It was really difficult at times to be inside Romy's head, after everything she had been put through, from not being believed to the constant torment she had to deal with. I could see why Romy would find it a struggle to say things or put things right. But I'm glad despite the stuff she had to deal with at school; she still had Swan's, a place where she could be herself. And honestly I adored Leon, he was such a super sweet guy, with the way Romy was he didn't have an inkling about what she had been through, but I loved that he tried to be there for her, even when she pushed him away. I could understand how tough it could be for Romy to have somebody want to get close to you and spend time with you, but you just couldn't let them experience this whole another side of your life. I also liked Romy's mum and boyfriend, although they didn't know about the full extent to what Romy had to go through, I loved how they were a constant support for her. It's pretty hard to find family which is there for you in YA books these days so I was hugely grateful for Summers for including these decent ones.
All the Rage was a raw powerful read, Summers was pretty able to get under the skin of Romy's character and make her story come to life for us. Summers once again was able to give us a story I totally found myself immersed in, that at times I lost track of things going on around me as I just wanted to know how things were going to go down, how things would turn out for Romy and who was behind everything. I was taken by surprise by the way things did go down, the big reveal I wasn't expecting, I really don't know what I was expecting, but certainly not that. All the Rage was certainly a book which will make you think about days after finishing it, churn your insides and wish that things never had to be this way.