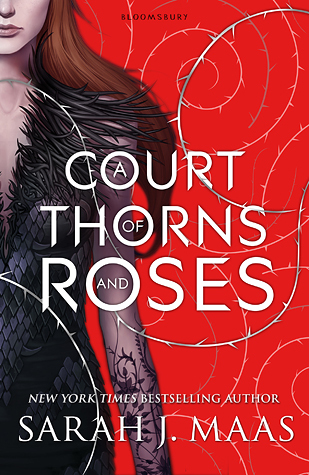 A Court of Thorns and Roses by Sarah J. Maas
Publisher:
Bloomsbury Childrens
Publication Date:
5th May 2015
My Rating:
4.5 stars
Feyre's survival rests upon her ability to hunt and kill – the forest where she lives is a cold, bleak place in the long winter months. So when she spots a deer in the forest being pursued by a wolf, she cannot resist fighting it for the flesh. But to do so, she must kill the predator and killing something so precious comes at a price. Dragged to a magical kingdom for the murder of a faerie, Feyre discovers that her captor, his face obscured by a jewelled mask, is hiding far more than his piercing green eyes would suggest. Feyre's presence at the court is closely guarded, and as she begins to learn why, her feelings for him turn from hostility to passion and the faerie lands become an even more dangerous place. Feyre must fight to break an ancient curse, or she will lose him forever.

I'm not usually one to read books featuring faeries, the handful that I have read previously didn't really end up leaving the greatest impression with me, but when it came to Maas writing a new book, I don't care what it's about, just that I need it in my hands right away. And I'm glad I didn't focus too much on the faeries aspect of this book beforehand as once again Maas didn't disappoint.
Feyre does everything for her family, after the dire circumstances they found themselves in Feyre has to resort to any means possible to provide food on the table for her two sisters and father. She's basically taught herself everything and even though it seems as if her sisters don't appreciate what she's doing (they seem to spend what she makes as soon as possible) Feyre risks her life in making ends meet. So when she comes across a wolf whilst out hunting, Feyre once again puts the lives of her family before her own. Her kill also looks that it will tide her family over longer than things she's hunted in the past. But the when a best-like creature turns upon her doorstep wanting to know who was behind it and the worst possible stipulation Feyre's life takes a turn for the worse.
I truly did feel for Feyre, she literally did everything, so when she decides to leave her family behind and live in Prythian I was hoping that things would get a lot better for her. Prythian was one heck of a super scary place, and although it seems as if the faeries weren't going to hurt her, they still seemed super annoyed about her killing their friend. And could she really trust the faeries after all the things that she had heard about? I was super curious about getting to know Tamlin and Lucien, although Lucien did make me super wary about him, I loved seeing this tender side of Tamlin come out when for the majority of the time he was such a formidable character who seemed to growl a lot (I should have known that I was going to fall hard and fast for him after I heard him growl the first time, characters who growl are always one of my weaknesses). But I also loved the progress that Feyre was able to make, I knew that she was a strong character from the beginning with all the hunting she was used to, but she also really came into her own as the book progressed. Despite being told numerous times not to venture out of the palace, of course Feyre could be a little curious at times, and although she did find herself in dire situations, I was sort of happy to experience these tight situations that she used to find herself in. They did of course create a lot of anxiety, but ended up being a few of my favourite scenes.
I loved the character progression that we got of Feyre, Tamlin and Lucien as the book progressed. Lucien actually was a really funny character once you got to know him. And Tamlin where could I even start with this marvellous character? If you thought you loved the characters that Maas created in her Throne of Glass series, you honestly haven't experienced anything yet. I loved the fierce side of Tamlin, how he would go and seek creatures that were lurking around on his land, how people knew never to get on his bad side. But when the fierce side was gone, I loved him even more, he was considerate, and a total sweetheart (something which I never expected). Some of his scenes with Feyre were just delightful to read, I certainly hope Maas has a lot more for us in the next two books. *blushes*
Maas really threw a lot our way in the first half of the book, but I have to say despite the heartache I had to go through the second half was my favourite. Maas really upped her game, there was already a lot of conflict, deception and power struggles going on, but there was even more upheaval and emotional trauma flying our way later on. One character I immediately wanted to throttle, I don't know how another character could stay so calm around her, and I guess it was in their best interests to do so. And then there was another character that really did go out of their way to annoy me with their antics, but he was still one character who I became super intrigued by. His charm at times could be hard to resist, I didn't end up switching sides in this book, but this character I certainly wouldn't mind learning more about in the future books especially the way things turned out.
A Court of Thorns and Roses was a spectacular start to what I'll know will be an epic series. Maas has truly crushed all my weak assumptions I had about faeries before, honestly now I wouldn't mind having someone like Tamlin around. The only thing I suggest to readers who will be giving this a go is not to make assumptions of characters early on, I was quick to do this and was thrilled to find out that I couldn't be more wrong. I highly recommend fans of Maas and all readers to give this book a go, it's full with fierce characters, crazy scenes and non-stop action and of course it has some beautiful scenes for those romance fans out there. *sigh* honestly this is just one epic book!