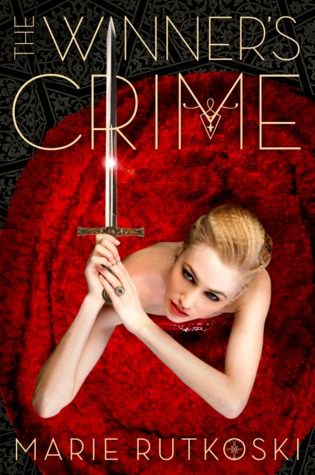 The Winner's Crime by Marie Rutkoski
Publisher:
Bloomsbury Children's
Publication Date:
March 12th 2015
My rating:
4 stars
Lady Kestrel's engagement to Valoria's crown prince calls for great celebration: balls and performances, fireworks and revelry. But to Kestrel it means a cage of her own making. Embedded in the imperial court as a spy, she lives and breathes deceit and cannot confide in the one person she really longs to trust ... While Arin fights to keep his country's freedom from the hands of his enemy, he suspects that Kestrel knows more than she shows. As Kestrel comes closer to uncovering a shocking secret, it might not be a dagger in the dark that cuts him open, but the truth.
I was lucky enough to receive a copy of The Winner's Crime a few months back, I had adored The Winner's Curse and Kestrel and Arin and I couldn't wait to dive back into their gorgeous but crazy world once again, but the early reviews I read had me super worried that my heart would be in for a tough time, I'd had my fair share of heart breaking reads as of late, so I just kept on pushing back picking up the book, until I finally succumbed. And I did end up loving it, but I wasn't really affected by it as much as I thought I would be.
With the decision that Kestrel made in The Winner's Curse, she knew there would be consequences, but did she think that she would never see Arin again? That her feelings would just disappear? I for one couldn't wait for Arin to make an appearance just so that Kestrel could realise what she had given up. Yes what she did was for the greater good for a lot of people, but oh Kestrel look at what you lost in the process too? Once again I absolutely adored Arin, he was super sweet and really did take everything to heart, I felt super sorry for him at times, as all he wanted was the truth, but so many people wouldn't give it to him. It was clear as day who he was meant to be, but all the lies that he was fed (which I know some were necessary), made him doubt what he believed to be true. The rejections he had to deal with honestly broke my heart. Then there was Kestrel, I did admire everything she had done, and I know her back was against the wall especially with the emperor making constant threats (this guy just made me so mad, I honestly wanted to just punch him a few times). But I hated how she treated Arin, she was so close to telling him the truth on so many occasions, but held back instead. She did however go on to prove where her real loyalties lied, and I'm glad that she did risk a lot to do this. But ugh I just want Arin and Kestrel to be together!
Rutkoski once again did a wonderful job with The Winner's Crime; her writing weaved such a beautiful story, despite so much deceitfulness and violence going on, there was a tender poignant story going on beneath it all. And also despite my heart being in my throat a couple of times and the constant dread in the pit of my stomach, I always held the hope that things will end okay (I still will count this meagre amount of hope I have left to the next book). Rutkoski's The Winner's Crime is a book that readers can gobble up in one sitting, its cunning characters will have readers constantly guessing where people's real loyalties lie, but the love and despair that comes through this story will leave you hoping for more.