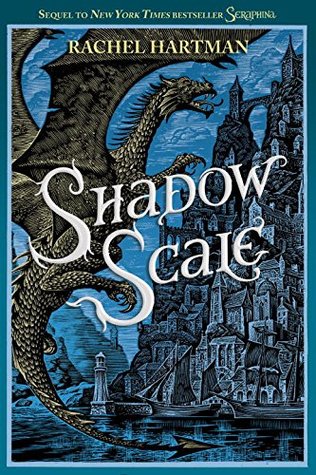 Shadow Scale by Rachel Hartman
Publisher:
Random House Children's Books
Publication Date:
March 10th 2015
My rating:
3 stars
The kingdom of Goredd: a world where humans and dragons share life with an uneasy balance, and those few who are both human and dragon must hide the truth. Seraphina is one of these, part girl, part dragon, who is reluctantly drawn into the politics of her world. When war breaks out between the dragons and humans, she must travel the lands to find those like herself—for she has an inexplicable connection to all of them, and together they will be able to fight the dragons in powerful, magical ways. As Seraphina gathers this motley crew, she is pursued by humans who want to stop her. But the most terrifying is another half dragon, who can creep into people's minds and take them over. Until now, Seraphina has kept her mind safe from intruders, but that also means she's held back her own gift. It is time to make a choice: Cling to the safety of her old life, or embrace a powerful new destiny?
Once again Hartman wrote such a rich descriptive read in Shadow Scale, her writing was detailed yet beautiful, I can fully place myself in Seraphina's world and experience this crazy and dangerous journey with her.
If you thought a lot happened in Seraphina, there was a lot more to wrap your head around with Shadow Scale. With the constant threat against Queen Glisselda, Seraphina was forced to go out and find some sort of defence as suggested by her uncle Orma. The defence being all the half dragon characters that resided in Seraphina's mind; they had been put there to protect Seraphina, and Seraphina was able to tend to them from time to time, but actually finding them in real life and convincing them to come back with her to protect the Queen was a whole another story. But I was eager for Seraphina to be successful in her mission. And Seraphina had the best support possible in her friend Abdo, he couldn't speak because of the scales that covered his tongue, but he could communicate into Seraphina's mind instead, I appreciated this way of communication between Seraphina and Abdo because of the journey in front of them, they needed any sort of help possible.
Of course I didn't think that Seraphina's task would be the easiest one, but I didn't think such a horrid character could twist and worm her way in. Once I did get to learn more of her back story I did sort of feel for her, but then she kept on latching on to the other characters and nearly wrecking all of Seraphina's work. And it was like wherever Seraphina went, she was there when you least expected her to be, I would let my guard down assuming she couldn't have thought far ahead right, but no of course she had found a way to worm her way in. That I got to the point where I couldn't trust anybody. I had to be constantly on the lookout for her character. She was such a sneaky character, but it seemed that she got powerful as the story progressed; she was able to topple even the oldest and strongest of characters. Would there be any way for Seraphina to accomplish what she had been sent out to do?
Despite this other being around and being hell bent on destroying everything, I enjoyed meeting the quirky personalities of these half dragons along the way. Hartman really upped her game in introducing such a variety of characters, they were all so unique in their own ways that with so many being introduced along the way I didn't have a hard time keeping up. Also even though we didn't get to spend as much time as I'd hoped with these characters, a few quickly did go on to become favourites. Shadow Scale was a fantastic follow up story from Hartman; my only complaint was that we didn't get to see much of Orma or Prince Kiggs as much as I'd hoped for. Regardless of this, the world building and Hartman's writing was so exquisite, I have to commend her for the amount of detail and rich descriptions she weaved into her story. Although Shadow Scale takes on a different track from Seraphina, fans of the first book will not be disappointed.