Today I have a special sort of post to share with you guys, the lovely Danielle from
Love at First Page
and I read Things We Know by Heart together, so we decided to feature a sort of short Q & A related to the book. You can see our answers by scrolling down to the end of our reviews, check out Danielle's review and answers
here
!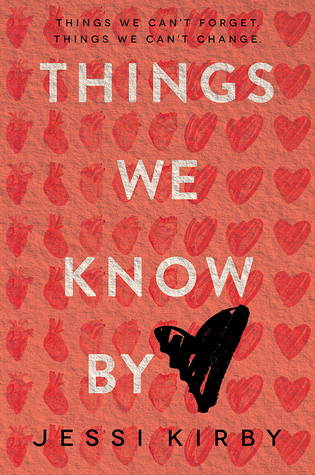 Things We Know by Heart by Jessi Kirby
Publisher:
Harper Teen
Publication Date:
21st April 2015
My Rating:
4 stars
When Quinn Sullivan meets the recipient of her boyfriend's donated heart, the two form an unexpected connection. After Quinn loses her boyfriend, Trent, in an accident their junior year, she reaches out to the recipients of his donated organs in hopes of picking up the pieces of her now-unrecognizable life. She hears back from some of them, but the person who received Trent's heart has remained silent. The essence of a person, she has always believed, is in the heart. If she finds Trent's, then maybe she can have peace once and for all. Risking everything in order to finally lay her memories to rest, Quinn goes outside the system to track down nineteen-year-old Colton Thomas—a guy whose life has been forever changed by this priceless gift. But what starts as an accidental run-in quickly develops into more, sparking an undeniable attraction. She doesn't want to give in to it—especially since he has no idea how they're connected—but their time together has made Quinn feel alive again. No matter how hard she's falling for Colton, each beat of his heart reminds her of all she's lost…and all that remains at stake.
I've been struggling a lot lately with finishing books, it's taking me over a week to finish some, because it's not suiting my mood or I've just found my focus drifting elsewhere. But I'm glad to say this was not the case with Kirby's Things We Know by Heart, once again Kirby was able to weave a gorgeous story which totally stole my heart.
Quinn's boyfriend Trent left a big gaping hole behind when he unexpectedly died. Quinn's world was everything with Trent, that even a year later Quinn's barely getting by. As Trent was an organ donor, he was able to help so many other people's lives afterwards and slowly Quinn has been getting in touch with these individuals, it's sort of the only way that she can still connect with Trent. But one person, who Trent helped in the biggest way, still hasn't got back in touch with her. Quinn doesn't intend to but ends up tracking down this person, she ends up frequently checking up his sister's blog posts about his life and how tough it was for him, soon enough Quinn feels like she knows him pretty well without meeting him at all. Quinn finally decides to take the biggest step of all, going out to see him. She doesn't really know what she intends to do, but just seeing this person that Trent made a difference to could probably help all the hurt Quinn had to deal with.
Kirby writes Thing We Know by Heart wonderfully, over the course of the book she would give us snippets into Quinn's beautiful relationship with Trent, it was hard enough to see Quinn struggle with taking each day one day at a time without Trent by her side, but when we're given insights into small meaningful parts of their life, it made my heart break all over again. Why did life have to be so unfair and take away the best thing Quinn ever had? The struggle that Quinn had to go through was understandable, her best friend, boyfriend, her everything was taken away from her and she was just expected to carry on, all she had left were small reminders of Trent in her room, or memories of their time together, but even these were beginning to fade. So the last real life things left of Trent were with those people he helped out when he became an organ donor. But Quinn never expected what would come about from the last person that Trent helped out.
I loved the slow build up of relationship between Quinn and Colton, even though Quinn already knew so much about him through reading his sister's blog post, she couldn't really let on that she knew who he was. There must be a really good reason as to why he didn't respond to her initial letter and she had to respect that. Also Colton was just the sweetest guy, I loved him from their very first encounter he was sneaky enough to get Quinn's attention, but also he was super nervous about taking the first step to spending more time with Quinn. I really do adore guys who wear their hearts on their sleeves and have a vulnerable side to them, so I was easily able to become a fan of Colton. The slow build up of their relationship really just left butterflies in my stomach, I was eagerly anticipating what their next day together could entail, and I loved the gorgeous scenes that Kirby infused into the story, they truly contributed to making the sweet gestures between Quinn and Colton that more much meaningful.
I also adored how Kirby made family once again an integral part of this book, Quinn's family was always there for her, they were concerned about her well being, always doing things together and were ready and willing to dish out well needed advice when necessary. It's always great to see great family dynamics in YA books these days.
Things we Know by Heart was a book which I adored, Kirby's beautiful passages really spoke volumes with me that my kindle was overfull with highlighted passages. Kirby dealt with the issue of losing a loved one and being able to move forward and find happiness again, but not forgetting this person in the most eloquent way. (Highlight to view spoiler)
my only slight miff was that I wanted Quinn to tell Colton the truth earlier on, I knew there would be more heartbreak to deal with later on the longer that she kept the truth from him
. But other than that I'm thrilled to have picked up Things We Know by Heart, it was one of the most beautiful, and heart breaking reads I have read in a long time!
Colton takes Quinn to his favourite places around their California coastal town as a way for him to get to know her better. Do you have any "special spots" that you frequently visit or wish you could go back to
I don't think that I have a favourite spot that I like to frequently visit, but one place that I can go to again and again and never tire of is London. I remember when I took my first trip to London on my own and I was super nervous, all the commuters around me knew exactly what they were doing and then there was me all by myself. But since then I've grown more confident catching the train down and and getting lost in the commuter rush. I love going down for movie premiers, London Film & Comic Con. But most of all around Christmas time when London has a extra special Christmas vibe going on (Convent Garden and Winter Wonderland are places you should definitely visit around then). And of course visiting the gorgeous bookstores of Foyles and Waterstones Picadilly (the six floors in this store are all sorts of heaven!).
This is going to sound cheesy. What's one thing in life that you "know by heart"?
Okay so I asked my sister this question as I found it super tough to answer and she was like your photographic memory of course! You're like Mike Ross from Suits! My sister can barely even remember what she did the other day, whereas I tend to keep all the memories that everyone seems to want to forget or have forgotten, but then there's me always bringing stuff back up. Sometimes it can be a good thing, when one of our cousins is trying to lie and they'll be like Jasprit do you remember what happened? And of course I remember it, but other times it can be kind of annoying like when I bring up memories that makes my sister cringe. So you can say the one thing I know by heart is past memories
Quinn and her sister create an Inspiration Board to map out what they'd like for their future. What's one picture that would be on your board were you to make one?
A photo of New York City. It has always been one of my dreams to visit there one day. I'd love to get lost in the hustle and bustle of Times Square and just to go on endless shopping sprees.
A big thank you to Danielle for doing this post with me, make sure you check out her answers today too over here.